What is Virtual Wholesaling in Real Estate: A Beginner's Guide to Virtual Investing by DC Fawcett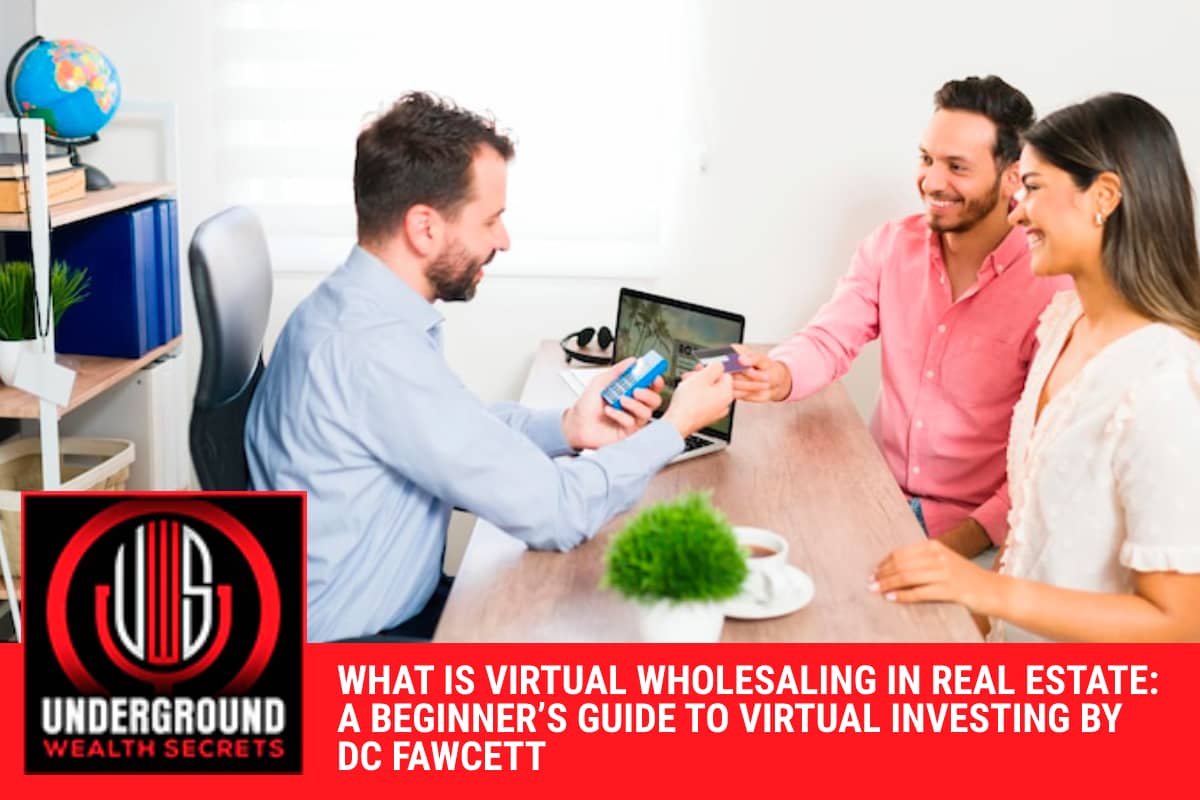 Did you know you can invest in real estate with little to no money?
Well, as a real estate virtual wholesaler, you only need an internet connection to get started – no huge capital, no license, and no burdensome obligations. Besides, it's a low-risk venture.
While investing in virtual wholesaling seems as easy as it sounds, it might be a bit challenging if you don't understand the requirements and how the strategy works.
However, you don't have to worry about anything because that's why we are here. We'll show you all the facts you need to know about virtual wholesaling in real estate.
That said, let's get started! 
What is Virtual Wholesaling in Real Estate?
Real estate virtual wholesaling involves obtaining a contract on a property that sells under a low market value and selling the rights at a higher price. Then, the difference becomes your profit.
As a virtual real estate wholesaler, you can look for a discounted property to increase your return on investment. Then, after putting the property under a contract, find an end buyer willing to buy it at a higher price. Again, you don't need huge capital to do this.
So, how does virtual real estate wholesaling differ from traditional wholesaling?
Well, everything happens online in virtual real estate wholesaling, from searching for properties to assigning contracts to potential buyers.
Thanks to the online platforms that facilitate the buying and selling of properties. You can nowfind property owners who need quick cash on Craiglist, Facebook Marketplace, and Multiple Listing Service (MLS) resources, among many others.
The best thing about real estate virtual wholesaling is that you don't have to drive around to search for properties physically. As a result, you save money on transport expenses.
According to the National Association of Realtors, vehicle expenses are the largest expense for many realtors. Each realtor spends an average of $1,460 on transport expenditures annually.
The more you drive around searchingfor properties, the more you spend on transport. So, imagine how much money you'll useto travel across the country to see houses.
But as a virtual real estate wholesaler, you can avoid such expenses by looking for motivated property sellers on the internet. It won't cost you much.
Besides, you can look for properties beyond your local area. As a result, you'll interact with many sellers and buyers across multiple markets outside your local market.
How Does Virtual Wholesaling in Real Estate Work?
So far, you've got a clue of how virtual real estate wholesaling operates, right?
But here's an example that can help you further understand the virtual wholesaling process.
Suppose someone owns a fairly outdated home and doesn't have enough money to repair it. And due to the property's need for renovation, they sell the house online for quick cash.
So here is where you, as a virtual real estate wholesaler, come in with an offer to put the house under contract for, let's say, $100,000.
You can then use your network to find a potential buyer willing to purchase the property for $120,000. In that case, you'll make a profit of $20,000 without buying the home.
Here are the four major steps in real estate virtual wholesaling.
Step 1:

Search for a property selling at a lower market value

Step 2:

Get the contract rights to the property at a specific price

Step 3:

Look for a potential buyer ready to buy it at a higher price

Step 4:

Assign the contract rights to the new owner and pocket the profit
Real Estate Wholesaling is Different from Flipping Properties
Now that you understand how virtual wholesaling works in real estate, it's important not to confuse it with flipping houses. The two strategies are different.
Flipping involves purchasing a distressed property and renovating it to increase its value, then reselling it for a profit. For that reason, you'll need more time to do the repairs and close a sale.
But with wholesaling, you obtain the contract on a property at a lower market value and transfer it to a potential buyer at a higher market price without buying or renovating it.
When you compare the two, you realize that being a virtual wholesaler is less demanding. You won't incur many expenses likeinsurance, brokerage fees, and renovation costs.
Advantages and Disadvantages of Virtual Wholesaling in Real Estate
Real estate is a lucrative industry with many investment options. However, each strategy has unique benefits and drawbacks, including virtual wholesaling. 
Pros of Virtual Wholesaling
Here are the reasons to invest in virtual real estate wholesaling.
Fast and Less Costly:

Virtual wholesaling can help you earn quick cash with little to no expenses. You don't have to renovate a property but reassign contract rights.

Low-Risk Investment:

With virtual wholesaling, you won't worry about losing money when you fail to get a buyer because none of your money gets tied to the property.

No Geographical Limitations:

Virtual wholesaling allows you to do business past your local market. You can reach out to sellers and buyers across multiple markets online.

No Capital for Entry:

The primary advantage of virtual real estate wholesaling is that you don't need capital to buy properties. Even a real estate license is not mandatory.
Cons of Virtual Wholesaling
Like any other real estate investment, virtual wholesaling also has a few drawbacks, such as:
Lower Profit Margins:

Virtual wholesaling offers lower profit margins than other real estate investments, such as flipping.

Homeowners' Unwillingness:

Some property owners are not ready to work with virtual wholesalers. Instead, they prefer dealing with buyers who pay in cash.

It Takes Time to Start Earning:

Earning profits as a virtual wholesaler takes time. You must first do some research to find the best properties and find potential cash buyers.

                                               
Blind Sales:

Since you don't physically visit the property you're dealing with, you may sell a property that doesn't meet the buyer's expectations, tainting your reputation.
Final Thoughts
Virtual wholesaling is an excellent way to tap into multiple real estate markets beyond your local area and maximize return on investments. Besides, it's a risk-free and low-cost investment.
So, if you want to invest in real estate but lack enough capital to buy properties, you can start with virtual wholesaling. Then, all you need is the internet to search for properties online.
Also, build on your virtual networking skills to help you engage motivated property sellers and potential buyers. Most importantly, seek help from experienced realtors when necessary.
Free Resources:
Free Virtual Wholesaling Mini-Course